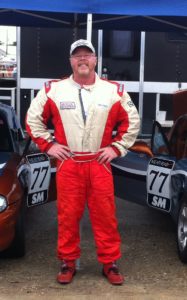 Ted Cahall has been racing as part of SCCA Club Racing since March of 2009 when he passed his drivers school and obtained his novice permit. He obtained both his regional and national Club Racing competition licenses in 2009. He participated in the MARRS regional series and completed 7 races and finished 21st in the points in 2009 and 10th in points in 2010. He races in the SCCA National Championships in September of 2010 and finished 33rd of 63 competitors. He is looking forward to the 2011 season racing with his brothers Bob and Larry Cahall.
Racing History
2011
Attended the Sebring Double National and had personal best national race finish in terms of percent of entrants
Attended all 9 MARRS regional races and finished 10th in raw points and 11th in net points for the series.
Attended National Race at Summit Point and finished 10th in the rain (after qualifying 4th)
Attended New Jersey Motorsports Park (NJMP) National Race and finished 9th – for 11 National Points
Attended National Race at Nelson Ledges in Garrettsville, OH and finished 6th – for 10 National Points
Attended BeaveRun National Race, finished 4th, gained 8 National Points, and qualified for SCCA National Championships
Attended Poconos National Race in SM and STU clases – won STU National Race.
Attended SCCA National Championship Runoffs and finished in 21st position with engine and suspension issues.
2010
Attended March Memories at VIR including Sprints, short and long Enduro
Attended refresher SCCA Drivers School
Attended SCCA PDX
Attended 10 SCCA Regional Races in the MARRS series (missed MARRS 6 due to National race conflict)
Attended 6 SCCA National races: VIR (2), Nelson Ledges (2), Watkins Glen (2)
Finished 8th in raw and 10th in net MARRS Regional Points for 2010
Attended the SCCA National Championship Runoffs – placed 33rd of 63 racers
2009
Attended SCCA Spring Drivers school and received SCCA Novice Permit
Attended 7 Reqional SCCA MARRS Races: MARRS 1, MARRS 4, MARRS 5, MARRS 7, and MARRS 9-11
Obtained SCCA Club Racing Regional Competition License
Obtained SCCA Club Racing National Competition License
Attended World Class Driving and drove 5 different exotic cars
Attended two SCCA PDXs and one SCCA Time Trials
Attended Bertil-Roos driving school in the Poconos, PA.
Placed 4th in the EMRA Sprints
Placed 3rd in the EMRA 4 Hour Enduro
Attended the World Class Driving Experience 200MPH challenge and went over 200MPH twice
Finished 20th in MARRS Regional Points for 2009
2008
Attended SCCA Performance Driving Experience (PDX) at Summit Point, WA.
Attended a High-Performance Driving Event (HPDE) with the Northern Virginia Corvette Club.
Attended Mercedes-Benz AMG driving school in the Poconos, PA.
2006
Attended Two Day High-Performance driver school ar ProFormance Racing School. Passed first driver's school towards SCCA certification.
2005
Attended ProFormance Racing School with Don Kitch, Jr. at Pacific Raceway in Kent, WA. Also attended a few track days.