On Thursday I drove down to Richmond, VA and participated in the World Class Driving Tour. We had a chance to drive five different exotic sports cars through the country side of Virginia. Of course, no speed laws broken by any of the participants, especially me. Cough… Below is the group shot from our outing (more photos of my group at bottom of this post). I am the second person from the left.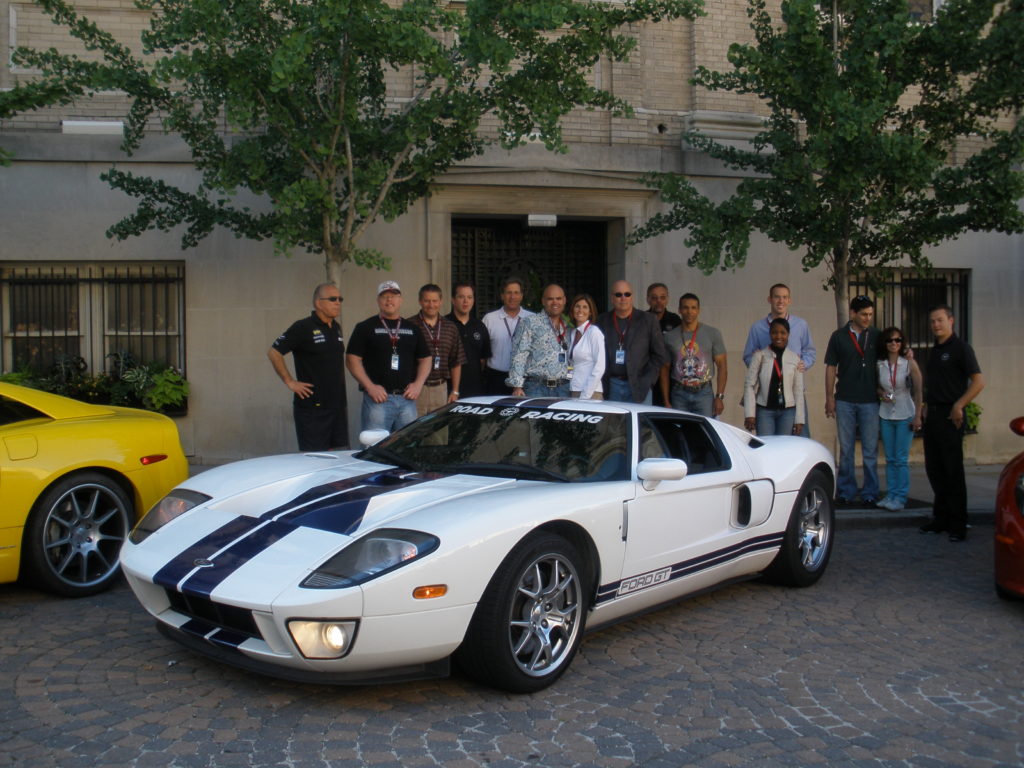 We started the day at 7:00AM by signing our lives away. It would have been unpleasant to have wrecked one of these as I think I promised the future lives of all my relatives for many centuries to come as collateral.
Then we were out to the cars for the group photo and then the road. Each driver took a turn in each of the five cars. We had eight drivers and only five cars, so each driver had three legs as either an exotic car passenger or in one of the lead or chase vehicles. This was the only let down of the whole morning. I am not sure I would have registered had I known that. OK – I probably would have – it was a total gas.
I was lucky enough to sit out the first segment – as that was driving through town in a very slow, deliberate manner. No fun sitting in a high performance car in traffic! My first segment was in the Audi R8. It is a fantastic car that handles superbly. It clearly can be a daily driver (and Ash Patel at Yahoo uses it as one). My only complaint was that it was somewhat under powered for an exotic car. I was also at the very end of the pack – so lagging back to rev the engine was somewhat more difficult. Still great car and I was very impressed.
My next segment was in the Callaway C16 Corvette. It is supercharged and was by far the very fastest car of the day. It has an automatic transmission as well as paddle shifters. The automatic was so well tuned there was no need for the paddles. I did a hole-shot out of the parking lot and was shocked by the power. It got a bit squirrely even with the traction control on. Yeah – that's what I'm talking about! I was second in the conga line behind the Lambo and I lagged back quite a few times. The car was like a rocket ship when I would nail it and downshift two gears. The whine of the supercharger was outrageous and the power literally pinned you to your seat. I have owned some fast supercharged cars – but this was the best. Callaway got this one right. I noticed that there was blue smoke pouring out of the back of the car when I would pound on it. I figured I would point that out when we stopped next (I really did not need to since I was coating the 3 cars behind me). It turned out that the blue smoke was a harmless leak from the supercharger cooler that only occurred under very high load (ie. me). I must have done 5 or 6 power runs after lagging back and flooring it. That ride alone would have been worth every penny – but it gets better. We got to a straight, well paved, wide-open section of two lane highway following a slower car. The lead car passed and and the Lambo followed, I lagged a bit so I could wail on the C16 and then hit it. We blew past the car and began to climb into the back seat of the Lambo. I am sure we went a tad over 55…
Eventually we pulled over and switched again. I got the Lamborghini this time. I figured there was no way I was going to enjoy that after the C16. While the Lambo does have 10 cylinders, it is not supercharged, etc. Well, I was wrong! The thing was amazing. I was behind the pace car (driven by Roland who is an experienced pro racer that could have made a tricycle go fast). I let Roland get a good pace ahead of me and pounded out the Lamborghini. It was almost as impressive as the C16 – but it is all wheel drive and really was incredible in the curves and corners. I pulled a number of power downshifts in this car too and was really torn as to which car I now liked best. Either way, there is no loser out of these two.
When my turn was next, I got to drive the Ford GT. This is a true supercar and was the only car with a real stick-shift and clutch. One of the instructors always road in the GT. No problem. 🙂 This was a great car and extremely fast. It is also supercharged – but for some reason the power was very linear and smooth. It did not really let lose and snap my neck back as I had done in the C16 and Lambo. It might have been due to the instructor sitting next to me – but he never made a peep each time I lagged back and then hit it as hard as I could. No question a fantastic car – but it did not rank with the C16 or Lambo. It might be due to the manual transmission. The automatics they are making in these new exotics are really phenomenal.
When we were well on our way back to the hotel, it was time for my final drive. I was in the Alfa-Romeo 8C. It had the nicest sound to it – but unfortunately resembled more of the Audi R8's power band than the other power beasts. Unlike the Audi's fine transmission, the 8C would bog under full power shifting. It was also grumble backfiring on downshifts or when I let off the gas. All of this – and it was the most expensive of all of the cars at about $300k! They are only letting 75-80 of them into the US – so it is a rare collector's car. It is a good thing – because even at about $200k this would not see any sales volume when compared to a Lambo, Ferrari, or other car in that range. It was definitely my least favorite of the five cars. So I was glad it was the one that I had to waste part of my turn in city traffic as we parked back at the hotel. I guess it has some appeal and some woman actually called out to us (another driver was my passenger) to let us know she liked our car… So Italian sound appeal counts for something.
Click on one of the photos to start the gallery.