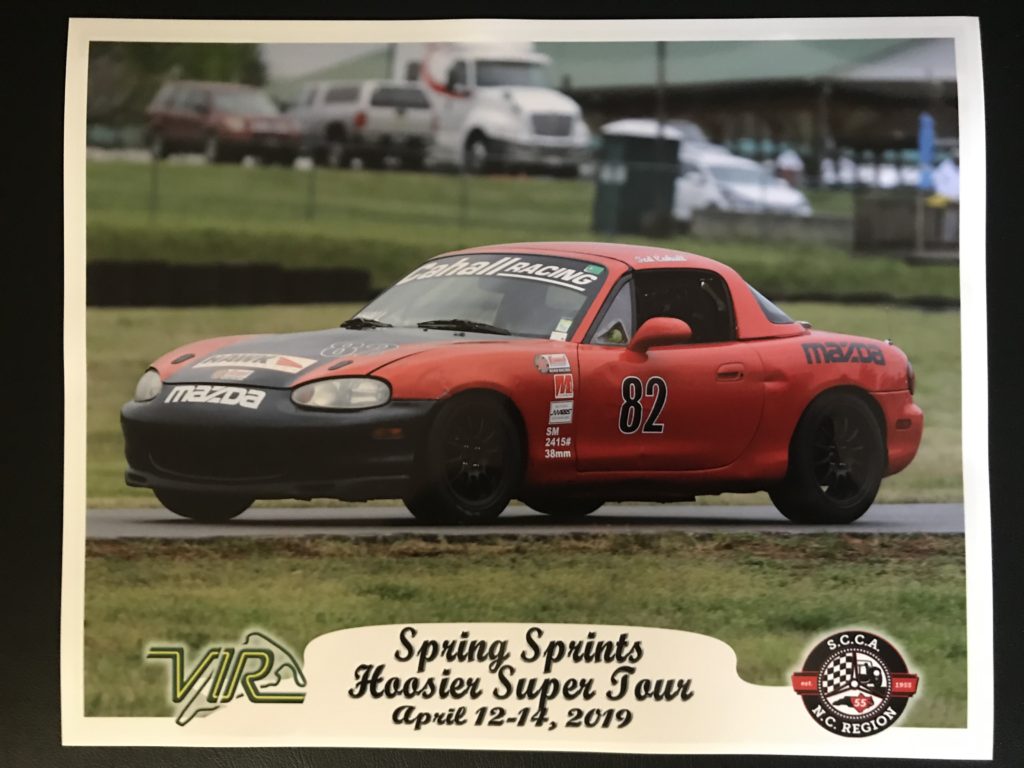 This "weekend" is the SCCA 2019 VIR Super Tour Majors. I used quotes as I flew in on Wednesday after getting home at 1am Monday morning from my regional MARRS 1 race. Racing weekends now start on Wednesdays!
There are over 500 drivers packed into VIR as this will be the location of the 2019 SCCA Championship Runoffs. So people want to practice as much as possible at VIR before the big event. My Spec Miata (SM) class has 78 cars registered and 70 showed up to qualify. That is a lot of cars on the track at the same time!
I have not raced in a "Majors" event in over three years. So I plan to try to keep out of wreckage and drive my car onto my trailer at the end of the weekend.
Thursday Practice Sessions
We got four practice sessions on Thursday. All without rain and for me, mostly without any drama. I was able to run a lap at 2:19 – but only one. No where near my best times in the past. The main reason for my attendance this weekend is that I will need at least 2 "Majors" events to qualify for the SCCA Championship Runoffs. So good times are a bonus – but just turning a wheel in the race checks the box.
Friday Practice / Qualifying…
The good news is that it rained all day today. I decided to skip the practice session after the first lap when I realized my defroster was not working. No sense in balling up the car during practice in the rain. John McCaulley rigged up a temporary defroster and I was ready for qualifying. Unfortunately, your best lap in the practice session was used to grid you for qualifying – and thus – I will qualify LAST.
In the afternoon, the rain continued during qualifying where BOTH of the two laps we got were black flagged! Good times.
We qualify again tomorrow morning and then have races tomorrow afternoon and Sunday. This is all barring more thunder of course. Rain expected both days…
Saturday Qualifier and Race
It rained all day Saturday and due to the number of cars, many drivers were forced to paddock in the grass. It began to look like the Woodstock of racing. Cars with slicks could not get out of the muddy grass paddock, and had to be pushed. It was quite a mess. I took a few pictures which really don't even do it justice.
In the Saturday race, I started in 53rd position (of 70 cars) due to the lack of qualifying laps/times. I had a pretty good run and finished 32nd. The main concept was to not bend up my car or have an accident in the rain. Success!
Today looks like it will be dry. No rain tires and a very different field. I should start on the grid in a much better position due to my fastest lap. Hopefully another day of no bent metal and drive the car onto the trailer. Rain video to come once I get back home and can edit it down to the fun parts…
Sunday Race -You can't "fix" stupid
We actually had a race today without rain! The track was great and we were on slicks. We did have two full course yellow flags, which of course made the restarts interesting.
The great thing about Spec Miatas is they are fairly easy to fix. If you smash them up, you can fix them by the next event weekend. However, you cannot fix stupid – and I was REALLY stupid today. We got all the way to the last lap and I had a car closing on me extremely fast. I knew I would need to let him around – but chose to block the top of "South Bend" and let him go by after we crested the hill. Bad idea – I slid off at the top of South Bend and went for a mud slide. I went from 34th to 52nd. Had I let him go by at South Bend and done my best to hang onto his back bumper, I would have had a respectable finish for starting in 53rd place due to the lack of qualifying laps…
Lesson – choose not to be stupid! I was letting faster cars that had gone off by all weekend. Only one car left to let by, and I lose brain cells.
At least I did not bend parts or have body damage. We can just drive the car onto the trailer for the next race. Not terribly bad for having not attended a Majors events in at least three years…
Ted Cahall